Mark One Electric Company, Inc. and Alpha Energy and Electric, Inc. collaborated on a number of electrical jobs at the Kauffinan Stadium, JE Dunn Headquarters, and Arrowhead Stadium projects. Based on our experience on the aforementioned projects, we would not hesitate at any future opportunities to engage in a collaborative effort with AEE.
Carl Privitera II
, Vice President
Mark One Electric Company, Inc
Alpha Energy & Electric Inc. receives MAMBDC 2010 Award
May 27, 2010: Alpha Energy and Electric Inc is the 2010 joint recipient of the ExpOpportunity Playing to Win award. This distinguished award received jointly with JE Dunn Construction is in recognition of the excellent services and work done by the two companies.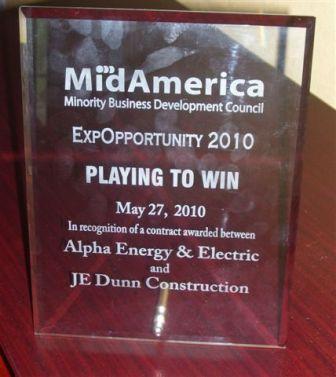 Published
04:33:31 05.17.2010