We are very pleased to have partnered with Alpha Energy and Electric, Inc. (AEE) for the lighting retrofit and redesign at the Wolfe Street Parking Garage in Kansas City, Missouri. AEE was very responsive and productive throughout the duration of the project.

Kirk A. Gober
Project/Operations Manager
Innovative Power Solutions
Alpha Energy & Electric Inc. receives MAMBDC 2010 Award
May 27, 2010: Alpha Energy and Electric Inc is the 2010 joint recipient of the ExpOpportunity Playing to Win award. This distinguished award received jointly with JE Dunn Construction is in recognition of the excellent services and work done by the two companies.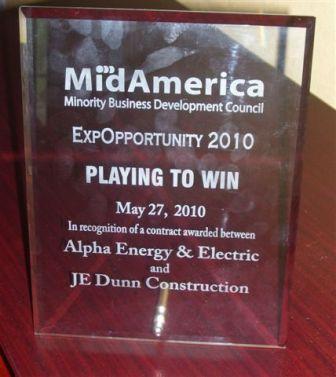 Published
00:33:31 05.17.2010