The new Kansas City, MO, Police Department East Patrol Campus/Crime Lab Project "Alpha has maintained schedule and installed work in a quality manner in accordance with the contract documents. Alpha has proved that they are able to execute a project of this magnitude"

Mr. Jeff Blaesing
Vice President
JEDUNN Construction
An Engineering, Procurement and Construction (EPC) Company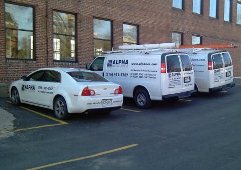 Alpha Energy and Electric, Inc., DBA Alpha General Contracting, is an Engineering, Procurement and Construction (EPC) Company with over a half century of combined experience. In our continued efforts to help power the economy, we endeavor to serve our clients with uncompromising level of excellence with integrity from planning to implementation. We are also a certified SBA 8(a), HUBZONE and MBE. Recipient of 2016 & 2017 Top 10 Small Businesses of the Year Awards. As a solution based company, Alpha General Contracting, offers a broad range of construction services for commercial, institutional, government, office, condominium, industrial and residential construction - both for new and existing projects.

Alpha General Contracting has been part of some of the region's highest profile construction projects. Some of our major projects include: Kansas City Downtown Streetcar, Iatan Power Plant, Kansas City Police Department East Patrol Campus/Crime Lab Project, the single largest Solar (Photovoltaic) System Project in Kansas City, Sprint Center, Arrowhead Stadium, Kauffman stadium, LaCygne Power Plant, the new JE Dunn headquarters, the new Saint Luke's Hospital, Kansas City International Airport, the Cerner's Trails Campus Project, Solar Panel Design & Installation for the US Army Corps of Engineers, 15kv Switchgear Replacement at the US Department of Agriculture, and University of Missouri power plant, etc..
The corporate team functions as the backbone and true strength of the company, with over 100 years combined experience in energy, electrical, general construction and project management, information technology, urban planning and real estate development. This experience is fundamental in our ability to meet our customers' needs through innovative design build approaches.
Industry and Market Description:
Alpha Energy and Electric has been part of some of the region's highest profile construction projects. Some of our major projects include Kansas City Downtown Streetcar, Kansas City Police Department East Patrol Campus/Crime Lab Project, Sprint Center, Arrowhead and Kauffman stadiums, Schlitterbahn Vacation Village, the new JE Dunn headquarters , the Miller Nichols Library at the University of Missouri-Kansas City, the new Saint Luke's Hospital, Kansas City International Airport and the Swope Ridge Geriatric Center, etc.

As a solution based company, Alpha Energy and Electric, Inc., offers a broad range of construction services for commercial, institutional, government, office, condominium, industrial and residential construction - both for new and existing projects. Alpha Energy and Electric, Inc.,. is a certified SBA 8(a), HUBZONE, SDB, MBE and DBE Engineering, Procurement and Construction (EPC) Company with over a half century of experience. Our products and services include, but are not limited to, the following:
Engineering Procurement and Construction (EPC)
Design build construction services
Design and Installation of Energy and Electrical Systems

Power Plant Design and Construction

Develop & Manage Energy Resources & Systems

Power Generation, Transmission, and Distribution

Energy efficiency program, Audit, Evaluation, Reviews and Retrofitting Services

Fire Alarm, Data & Voice, Security, Audio Visual Systems
HVAC Control (Parts & Smarts)

Solar & Wind Energy Design & Construction

Consulting, Training and Electrical Maintenance
Long Term Service and Maintenance Agreements
General Contracting and Construction Management