The new Kansas City, MO, Police Department East Patrol Campus/Crime Lab Project "Alpha has maintained schedule and installed work in a quality manner in accordance with the contract documents. Alpha has proved that they are able to execute a project of this magnitude"

Mr. Jeff Blaesing
Vice President
JEDUNN Construction
Kauffman Stadium
March 2008 - Alpha Energy and Electric, Inc., is proud of its current collaborative contract to install electrical systems at the Kauffman Stadium, formerly Royals Stadium in Kansas City, Missouri
We are proud to be a part of this laudable project; we strive to provide value for our customers through innovative design build approaches. Alpha Energy and Electric, Inc.: leading the show me state, and the nation in powering the economy.
A Modern Classic Gets a Facelift
Kauffman Stadium has always been one of the crown jewel ballparks of Major League Baseball. Hosting millions of baseball fans since 1973, "The K" and its signature look has proudly stood the test of time. Now after years of planning and design, the Royals begin the construction phase on the exciting renovation of a true Kansas City landmark.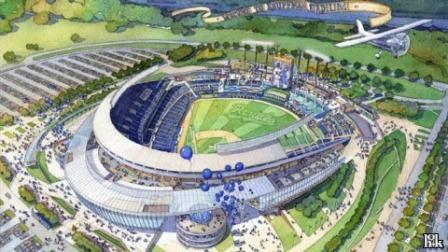 Opening Day 2009, Kauffman Stadium will reestablish its place among the premier sports venues in the world! The new Kauffman Stadium promises to be a breathtaking fusion of energetic surroundings and an intimate place to watch Royals Baseball.
Tenant: Kansas City Royals
Capacity: 40,625 (1973); 39,000 (2010)
Dimensions: Foul lines: 330 ft. (1973); power alleys: 375 ft. (1973), 385 ft. (1990), 375 ft. (1995); center field: 410 ft. (1973), 400 ft. (1995); backstop: 60 ft.; foul territory: small.
Architect: HNTB (Kansas City; 1973); HOK Sport ( Kansas City ; 2007-10 renovations)
Owner: Jackson County
Cost: $70 million (1973); $250 million (2007-10 renovations)